Greenville Home Renovation and Greenville Home Remodeling
Meet Lucynda Moore, Chief Creative Officer
Once upon a time, many years ago, I had a real job. I don't recommend it – the regular hours, steady paycheck, weekends at home…I am much better suited to not working in a suit- pajamas work best-just don't drop in unexpectedly!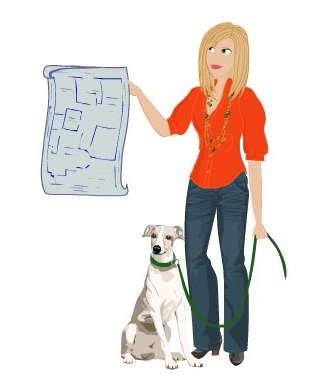 My last real job ended in anticipation of our firstborn and I opened my first office nearly twenty years ago in our home at the time, a tiny vintage 1920's Cape Cod in Neenah, Wisconsin. It had been remodeled awkwardly by a builder so I was constantly redesigning it in my head. I still remember leaning over my drafting table, looking ten months pregnant, trying to finish a project the day before I was scheduled to give birth. Never fear, my husband John delivered the design - ON TIME - the next day (after I had our firstborn of course!).
As my oldest son grew so did my home design skills , life experiences taught me more and more about how homes should work. Mom, babe and usually dog attended meetings with homeowners seeking to create unique spaces that reflected their lifestyle.
Vintage neighborhoods with charm and sought after details are my skill set - both redesigned and brand new. I problem solve – with a practical focus on circulation and flow while adding design, thoughtfulness and flair. It's a pleasure to bring these wonderful homes into the new millennium so that they are enhanced by design and comfortably enjoyed by the families being sheltered by them.
After moves to Atlanta ( where son number two appeared ) and then on to Greenville, SC (additional dogs added to family along the way), my skill and practice continued to grow.
One of my chief goals in remodeling a home is that the additions fit into the existing home and neighborhood. Upon completion, the changes fit seamlessly as if they had been designed that way originally.
Your home design should be all about you. A carefully thought out design for your family and your lifestyle. Cookie cutters belong in bakeries not in residential design. My philosophy is design as personal and unique as a fingerprint.
How We Work

"Conception through completion is my motto."
I am not sure I want to let you in on my little secrets for working…. You know, early morning in my pajamas or with a bowl of ice cream and two dogs at my feet late at night……ok, now you know.
Actually, I find that I start generating ideas as soon as I start talking to a potential client - whether on the phone, email or in person. Just a simple description of an idea for a project gets my design motor revved up. The process is usually started off by you, the homeowner.
A potential homeowner is appreciated too because I think design ideas can provide valuable information as to how you might use that lot to your best advantage or solve the boxy and cramped quarters of an existing home in a location that you love.So YOU contact me, (it might be considered rude if I just turn up and announce you need some serious curb appeal) after seeing one of my previously completed projects and speaking with their homeowners or you pass a job sign in the yard with some interesting framing going on. As we get to know each other and I understand your needs a problem solving and beautiful project can develop. There is a great virtue in creating vibrant living space in a home that someone loves.
If in our meeting we come to an agreement of the project and we like each other, I will send you a proposal which details out the phases of design and the possible costs as well. I enjoy working with clients to find out how they envision living in their home.I analyze the site, assess needs versus WANTS and try to determine a realistic budget. I do my best to design for the budget.
I love to see my projects get built and my homeowners happy. I tend to stay involved throughout the process ~ following up to make sure the project is becoming a reality just like it was envisioned and of course, to deal with new ideas or problems that come along. "Conception through completion" is my motto.